No evidence yet about financing for $82 billion plan

SEC reportedly probing CEO's pronouncement on Twitter
Wall Street and Washington have the same question for Elon Musk: Where's the money?
Two days after he vowed on Twitter that he had "funding secured" for a spectacular $82 billion deal to take Tesla Inc. private, he has offered no evidence to back up the statement. No one has stepped forward publicly — or privately — to say they're behind the plan. People with or close to 15 financial institutions and technology firms who spoke on the condition of anonymity said they weren't aware of financing having been locked in before Musk's tweet.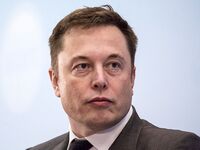 All of which could be problematic as the Securities and Exchange Commission starts investigating the matter. Regulators have asked the company if what Musk tweeted was factual and why such a disclosure was made via social media rather than in a filing, according to the Wall Street Journal, citing unidentified people familiar with the matter. Judith Burns, an SEC spokeswoman, declined to comment. Tesla also declined to comment. Read More…